Podcast Promotion Ideas for Guest Marketing
21259 Views
Comments Off

on Podcast Promotion Ideas for Guest Marketing
Podcast Promotion Ideas get promoted right after they are recorded. They are considering that podcasting is growing and has already entered the mainstream. This is an excellent way for you to increase your brand. And if you want to position yourself as an expert in your industry, podcasting is a powerful medium to tap into audiences that already trust the podcast host. You're a guest coming onto a show that has already done the work of acquiring that audience and gaining their trust. But the problem is so many people will be guests on podcasts. I've done this. I've been on dozens of podcasts.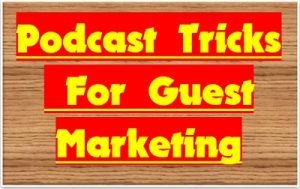 However, that host of the podcast is probably not heavily promoting that podcast after that first week, especially not after that early few days, depending on the week they released. So what happens if your show kind of falls by the wayside. If you spend the time prepping, you have a 30 or 60-minute great conversation with the host, and then they tweet it out once, and it's all for naught, and it doesn't even go on YouTube; a lot of podcasts aren't video and are audio-only. There's even less search ability when that podcast is audio-only just because discoverability in podcasting is still catching up with discoverability of comprehensive search.
podcast promotion strategy
It is getting better, though. This is a big solution, and it's simple. Make a Spotify playlist of all of the podcasts where you've ever appeared as a guest. This will make it easy for you to link people to that playlist benefit from the search value of having your name podcast guest as a playlist that is searchable on Spotify, but then you can also easily embed the widget onto your website.
And then you're going to go into search and type in your name and start taping the title of the podcast episode that you've been on. You'll see the three-dot ellipsis tap that then chooses the fourth option added to the playlist. And then you're going to create a new playlist. I suggest that you title it, your name dash podcast appearances. Now what we're doing here is very much a search effort. You're just trying to be clear about precisely what it is so that if people search for you, they can easily find the podcast that you've been on.
Now we have a new playlist started. If you can mistype it, now let's head back over to the desktop and do a couple of edits to optimize and make this little podcast playlist look even better. Now, the reason that I wanted to create that playlist on mobile is that it's easier. And apparently, that's the only place you can add specific podcast episodes to a playlist on Spotify. Spotify, desktop for Mac and PC don't work. I've tried it; the ellipsis button, when you hit it, doesn't have the option to add to the playlist when you're listening to a podcast episode.
how to promote a podcast
Now, remember this playlist is to promote past podcast appearances, where you are the guest on a podcast. I only put two episodes because we're just starting this playlist. There are many more to add later. This is good for now, though. I want to make sure that I'm personally branding this as my thing. So I don't want someone else's podcast logo to be the icon. And that also will help if people are looking to discover as a guest on podcasts. It does need to be under four megabytes. So use something small. All right. That seems pretty good. So the next thing here is we have to make sure that it's public.
If you see the text that says make secret, that means you're right. So you can copy the playlist. You could tweet that out. You could post it on social, whatever you want to do. What I love here, though, is copy embed code. Now, this is the best part. You're going to go to your website and paste it into a page. When you're editing HTML, on a new page called appearances, if you have a podcast header on your menu on your page, I will put it under that. I have a heading called Show because I have two different podcasts.
podcast promotion ideas and service
One's a podcast. One's a flash briefing. Appearances fit well under there. You might also, depending on the layout of your site for your brand, you might have Spoken or About. Just put it somewhere where it makes sense. Your goal here is to optimize the SEO for your brand for your name.
And to make sure that it's easy for people to get to listen to your past podcast episodes. This will give them so much more mileage than crossing your fingers. That the host knows how to shoot out an audiogram, promote it, post it to six different social networks within those first critical few days. And then more importantly, ongoing because what happens is podcasts get broadcast right after they are recorded.
People want new, but we don't even realize that sometimes great content is three years old. I love going back and listening to podcasts from seven years ago from marketing geniuses because everything they say still applies; it's not about the tools and the tactics. It's really about the value of having a foundational understanding of these things. And that doesn't change over time.
So all I did was I grabbed that embed code from Spotify, and I pasted it into WordPress, like mark as HTML or insert HTML block, depending on your theme, paste it in. It'll look nice like this. And these are all playable. The way to get these nice looking single episode widgets embedded is a very similar process to embedding that whole playlist. And both of these are nice to have. The playlist is much more search-friendly. This playlist's goal is if someone's on Spotify and they search for your name, they're going to find this handy dandy list of all the podcasts that you've ever been on.
paid podcast promotion ideas
Do this as soon as you're on because Spotify podcast' search functionality doesn't go back too far. Many months or years ago, it gets complicated to find three-year-old podcast episodes. If you do this, you'll always have them right there where you need them. Otherwise, they almost disappear into the ether because the algorithm favours much newer content.
This is almost like having a portfolio or a body of work accessible on this one of the top podcast platforms, Spotify. Lay it out like a table. Make it look good. Make sure that you've got your name as H2 text, maybe H3. Depending on your goal here is to have a page that if somebody Googles your name podcast, or your name guest, or your name appearances.